Admiration Standard Poodles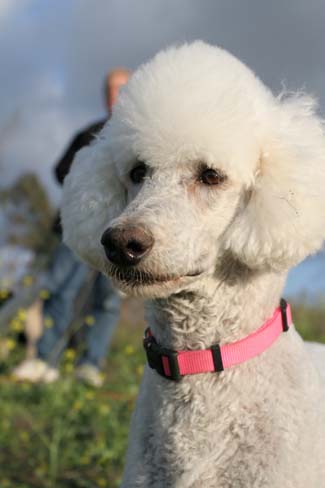 Through the years in the canine grooming and training world I fell in love with the Standard Poodle. I purchased my first Standard Poodle as a loving pet. I called him Doc. It was always fun to ask him, "What's up Doc?" Doc was a gentle soul and he and I were real close friends. We would go to dog shows to watch the poodles together. Doc was a real trooper, letting me practice my "show grooming" skills on him over and over. He liked the attention.
That was the begining of a long relationship with the Standard Poodle. The poodles are always wonderful and always hold up their part of the bargain when it comes to being superb companions.
Admiration has produced Champions through the years with careful guidance from some of the top veterans of the poodle show ring. I am truly grateful to have been able to know and learn from these poodle experts and have applied what I have learned in my breeding and rearing practices.
In the mid 90's I married Don Panzik who now has joined me in my poodle passion. We live with and love our poodles as our children. It's very important to us that our poodles are well cared for, are healthy and happy. We breed our poodles per the standard according to the Poodle Club of America. Always striving to improve with each breeding.
Our poodles are our family first to have fun with both around our ranch as well as in the show ring, on TV, as models for calendars and other publications and all the other adventures they have led us on. We are so fortunate to have them in our lives.