Daily Neurostimation
Our brand-new baby Standard Poodle Puppies are off to a good start!
Below we see one of our precious little white boys getting his daily neurostimulation. One reason our poodles are so healthy and steady throughout their lives is due to our using this technique on each of our litters.
Day 3 through 16 (when their little eyes and ears open up), our puppies get their Neurological Stimulation. This gives them a great start, aids in their development, as well as the following benefits, per Dr. Carmen L. Battaglia's article:
Five benefits have been observed in canines that were exposed to the Bio Sensor stimulation exercises. The benefits noted were:

Improved cardio vascular performance (heart rate)
Stronger heart beats,
Stronger adrenal glands,
More tolerance to stress, and
Greater resistance to disease.
To read the full study with illustrations, visit THIS LINK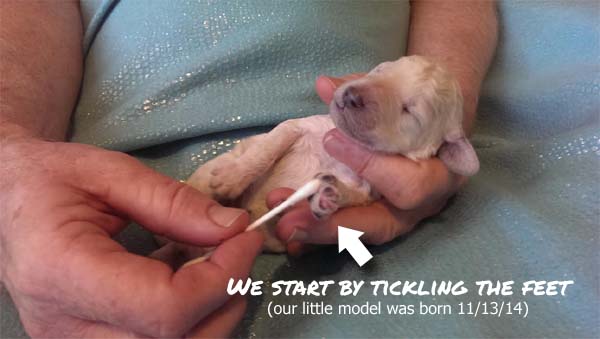 Below is a video demonstration video of the technique being used.
(Not a Standard Poodle, but this should serve to demonstrate)