Jacki and Anja Win Again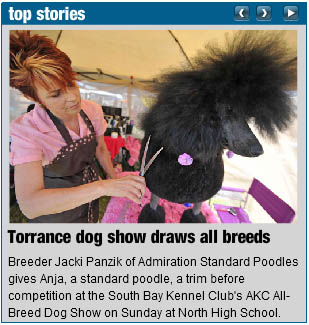 Jacki and Anja Win Again and this time its in the news. Yesterday, Jacki and Anja were in Torrance at the South Bay Kennel Club's AKC All-Breed Dog Show. There were lots of Standard Poodles among the other breeds competing. Anja walked out of the ring with another point for her career, escalating Admiration higher in the rankings of show Poodles.
Jacki remarked, "It was loads of fun – there were lots of very friendly people and what a gorgeous day! Great judging. We had a nice time in our newly decorated salon-style booth with all the bright colors. Anja was drop-dead stunning and performed well for me. We're looking forward to the next show."
Jacki has been making her mark in the Southern California and national Poodle show circuit.
The Daily Breeze picked up the story which you can see here. Their photographer captured them in this exhilirating moment while Jacki did scissoring and later brushed Anja's top-knot into a puff of cotton candy.
With a beautiful poodle such as Anja, its no wonder she's making headlines in the area.