Landscaping for Your Poodles
When we first purchased Admiration Ranch back in 2006, we knew we would needed to do some fixing up to make it Poodle-friendly. It just comes with the territory of Poodle Ownership.
We laid 3/4″ pea gravel on our 2,000 foot driveway that was perfect for then to romp on and do their business.
We had to remove some pampas grass patches that they liked to rub against, which cut their hair in the process.
Back in the early 00's we had to do quite a few modifications in our Anaheim home, particularly in the back yard. We laid concrete and molded the property to conform to our Poodles' lifestyle and habits.
Dogs will dig and they will get into all kinds of situations.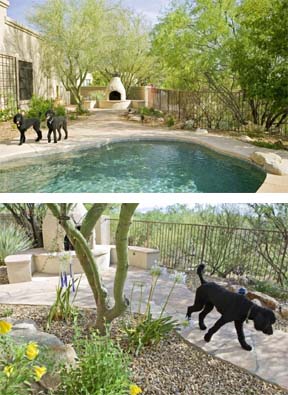 Here's a great story from Rick and Carol Driver, who obtained a couple of sister Poodles from us, Kona Cali. They actually had their story published in the Arizona Daily Star. You can see it here at this link: http://tinyurl.com/poodle-landscape