A Note From Maksim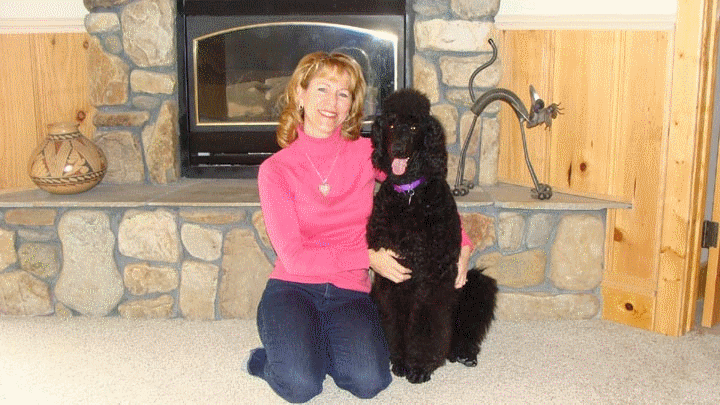 Hello Jacki,
Just wanted to let you know Maks is doing great! We absolutely love him, he is all you said he was going to be and more. Sunday we took him with us to Gene's sisters house to play in the yard with their dog Sadie, he had so much fun, I took pictures and will send some your way. I think I told you he rings the little bell on the door knob to let me know he has to go outside to go potty, he learned this with me only having to teach him one time, he is extremely intelligent. No accidents in the house. I brush him every day, he loves it and I love it too, he looks so gorgeous. We go on walks around the streets here, we are in a gated community with slightly sloping streets so it is good exercise for him and me too. It has been pretty cold up here so I have not gotten him clipped yet, he gets brushed daily so his coat is always soft and gorgeous but I am scheduling an appt either end of this week or next, since it will start warming up here. It is a beautiful sunny day and was this weekend too, but is supposed to rain through the week, so since we are at an altitude of 3000 feet it can get pretty cold. He is getting long, but it is all soft and not one mat, although I just love his long soft coat and love to brush him, he is about due to get groomed. We have bathed him and he is great about it, he loves when I blow dry him and runs into the bathroom when I blow dry my own hair and wants me to blow dry him, so I do for a few minutes and he stands there acting beautiful, it's so funny.
We found another pet store that is great, it has the same dog food we have kept him on that you recommended. We took him and got him a new collar since he has already grown out of the one we first bought him and he got another toy, he loves to go with me in the car, he pretty much goes everywhere with us. I really should have a bumper sticker that says "Maksim's car" He is a happy camper, has a wonderful and fun personality. He had a busy day today going around with me, we came home and ran around in the backyard he wags his tail so fast and now he is plopped on the floor taking a nap.
I will also let you know what he weighs as soon as I know. He is growing and is just the right weight for his height. When we first brought him home he chowed down his food, our other dog did that too for the first two days, I think it was because other dogs were around before. But after the first two days he eats slowly and casually, I am glad since I think it will help his digestive system. We also play with him before he eats and not so much right after he eats.
Gene and I both feel that this is the best breed and best dog we have ever had and he is absolutely suited to our lifestyle. Such a wonderful loving companion. Oh and I have to let you know what a good watch dog he is becoming. Gene's sister barged in the back door unannounced and Mak's jumped up growling and ran towards her barking, (he has a tough sounding intimidating bark now, not a froo froo poodle) we said it's ok and he settled down right away. We will tell his sister, that in the future it won't be a good idea to just barge in the door, he is just a puppy now, but as he gets older and more protective, it probably won't be a good idea. Hah
He is perfect, he is a watch dog that barks and growls and means it, but if you say it's ok he listens. Not like our doberman who really wanted to do damage, much too difficult to control, he is now doing Schutzhund, since his bite and attack drive were so strong.  Maksim is perfect, a watch dog who is intelligent and understands the job of protection and is very loving and a lot of fun too.
As you can see I can't say enough about him.
Alexis